05 Apr 2018
8 minute read
Update: I've now created a premium training course, Kubernetes on Rails, which takes some inspiration from this blog post series but updated with the latest changes in Kubernetes and Google Cloud and greatly simplified coursework based on feedback I got from these blog posts. All packaged up in an easy-to-follow screencast format. Please check it out! ☺️ - Abe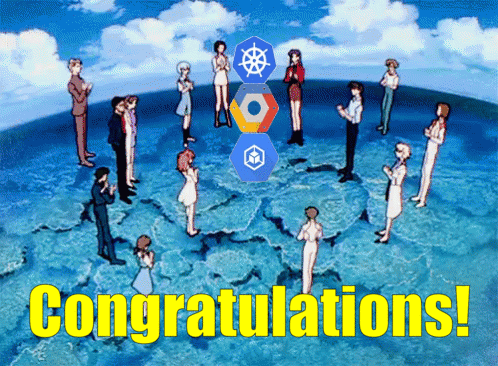 Congratulations, we've finished deploying the application!
Conclusion
Docker was revolutionary, but it mainly gave us low-level primitives without a way to assemble them for production-ready application deployments. I hope through this tutorial I've shown that Kubernetes meets that need by providing the abstractions that let us express application deployments in logical terms, and that GKE is an excellent managed Kubernetes solution.
I'll close with a great thought by Kelsey Hightower, in that Kubernetes isn't the final word in a story that doesn't end:
Docker wrote the developer story. Kubernetes expanded the narrative and added some new chapters, but the story has no ending.

— Kelsey Hightower (@kelseyhightower) March 2, 2018
Thank you
HUGE thanks to my reviewers, Daniel Brice (@fried_brice) and Sunny R. Juneja (@sunnyrjuneja) for reviewing very rough drafts of this series of blog post and providing feedback. 😍 They stepped on a lot of rakes so that you didn't have to - please give them a follow! 😀
Any mistakes in these posts remain of course solely my own.
Read more